This is a super fluffy and sticky recipe which my whole family loved with super healthy ingredients except the sugar. My boyfriend had to take three pieces in a row because he didn't want to stop enjoying the cake. Especially my dad loved the cake even though he has a low opinion of superfoods. I was surprised!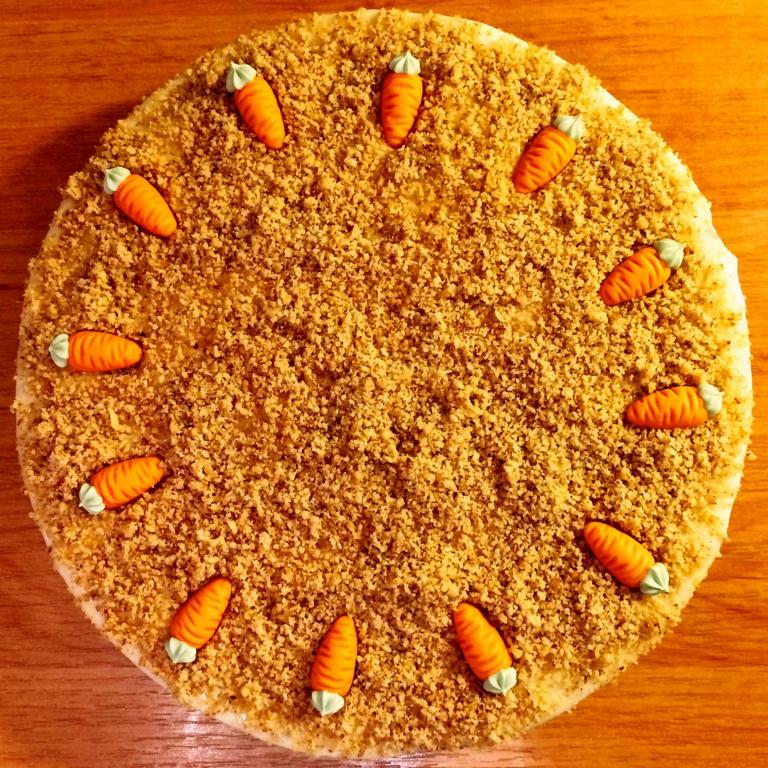 The ingredients you need…
for the dough:
225 gram (1 cup) white sugar

115 gram (a ½ cup) brown sugar

240 ml (1 cup) vegetable oil like Canola

120 ml (a ½ cup) buttermilk or self-made kefir

3 eggs

450 gram (2 cups) gluten-free "Teff" flour

1 package about 10 gram (2 teaspoons) baking powder

½ teaspoon salt

115 gram (a ½ cup) shredded and sweet coconut flakes

4-5 big carrots
Optional ingredients for a more aromatic dough:
I totally recommend all of them!

The peel of 1 orange

1 tablespoon cinnamon

1 tablespoon vanilla extract

½ teaspoons nutmeg

½ teaspoons ginger

3 tablespoons maple syrup



for the icing/frosting:
115 gram (a ½ cup) cream cheese (room temperature)

4 teaspoons butter (room temperature)

450 gram (2 cups) white sugar

1 teaspoon vanilla extract or/and vanilla powder
for the topping:
224 gram (1 cup) shredded walnuts

55 gram (a ¼ cup) shredded pecans

decorative, little marzipan carrots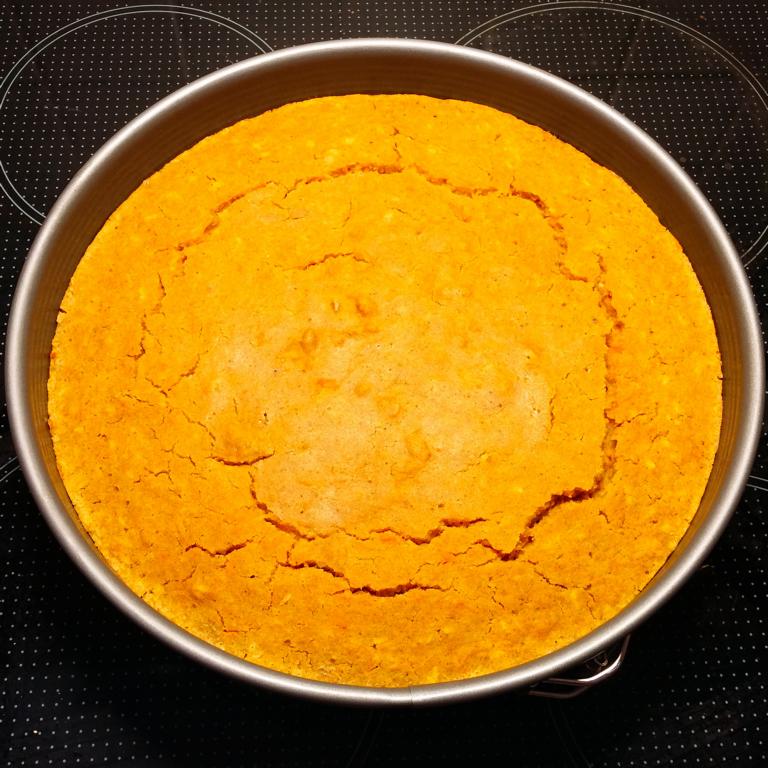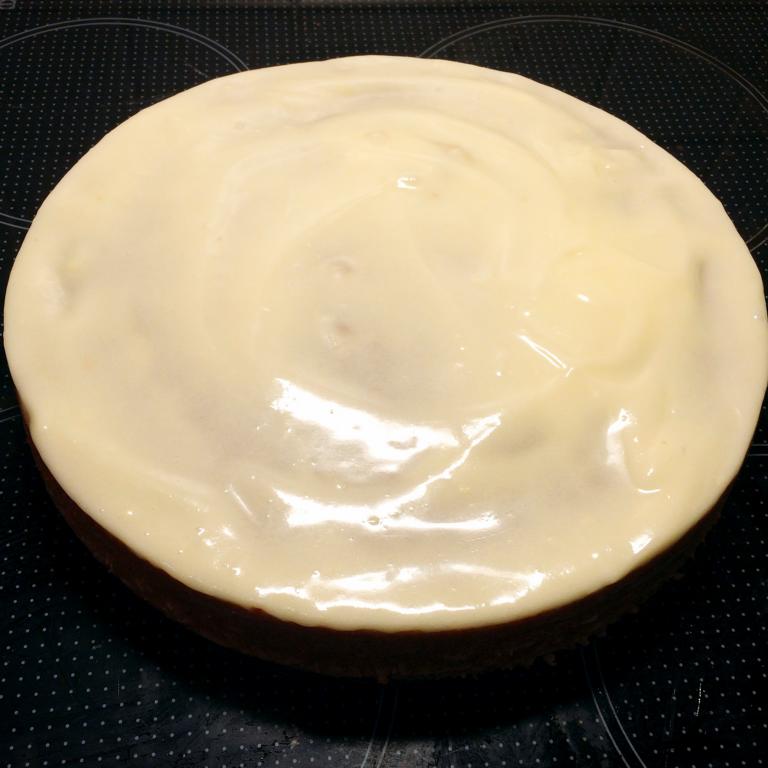 How to make it:
Pre-heat the oven to 175° C (or 350° F)

Grease the whole cake pan and additionally flour it

For the dough cream together the white and brown sugars, the vegetable oil, the buttermilk and eggs. Set aside.

Then slowly add the further dry ingredients bit by bit: the flour, the baking powder, the salt, the coconut flakes

For a better taste add all the optional ingredients or just the ones you like: The peel of one orange, cinnamon, vanilla extract, nutmeg, ginger, maple syrup

Shred the carrots and add to the dough. If you like you can also add some carrot puree, but it's optional as well. If you decide to do so use about 115 gram (or ½ cup). For this cake I didn't add any carrot puree though. It was already sticky enough.

Mix it only until the dough is fully combined. Then stop it! Be careful not to over mix it!

Pour the dough carefully into the prepared, greased and floured pan.

Bake for 20-25 minutes. Be careful! Don't over bake it!

Then put it into the fridge immediately or in winter on your balcony 😉

Start to prepare the frosting while the cake is cooling down: Cream together the butter (room temperature) and the cream cheese. It helps if you put the butter into a microwave depending on the microwave for in-between 10-30 seconds to let it melt faster. Mix the ingredients until the icing is creamy. Add more sugar if a thicker texture is needed.

When the cake is completely cooled down remove it from the pan and add the frosting on top.

Shred the walnuts and the pecans and sprinkle them on top of the cake. For decoration place the adorable, little marzipan carrots. Finish!
…. aaaand now ENJOY!!! 🙂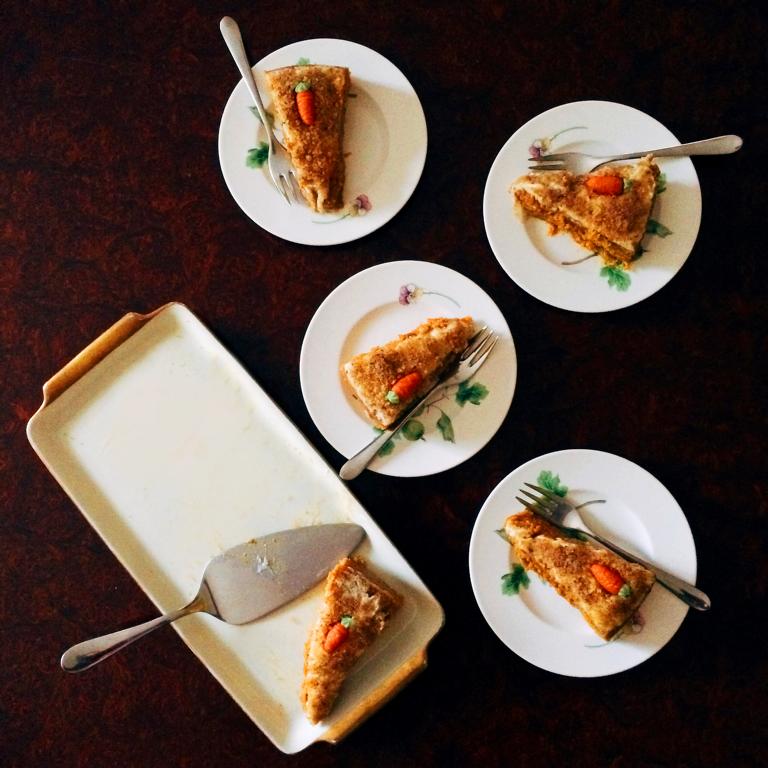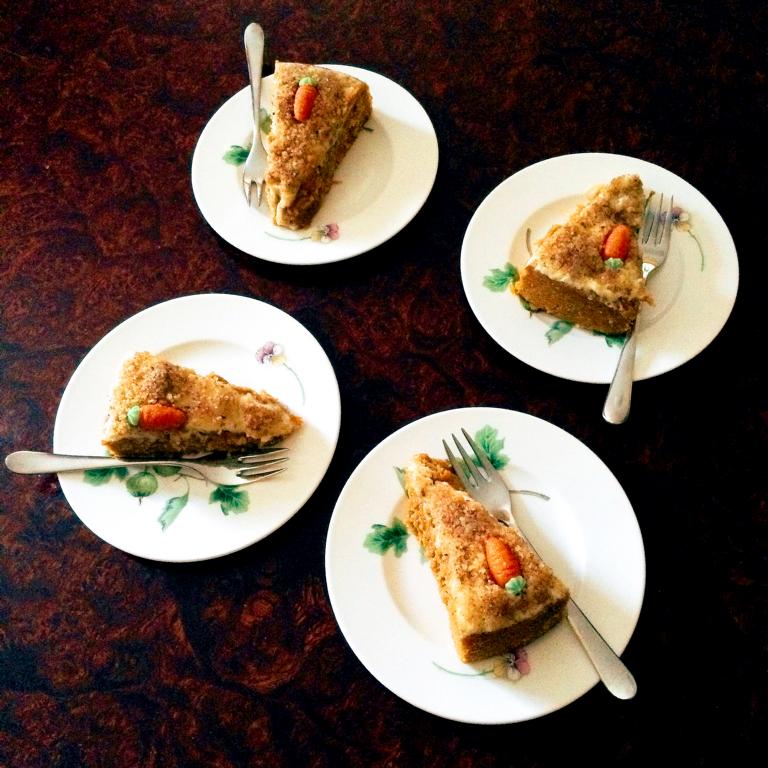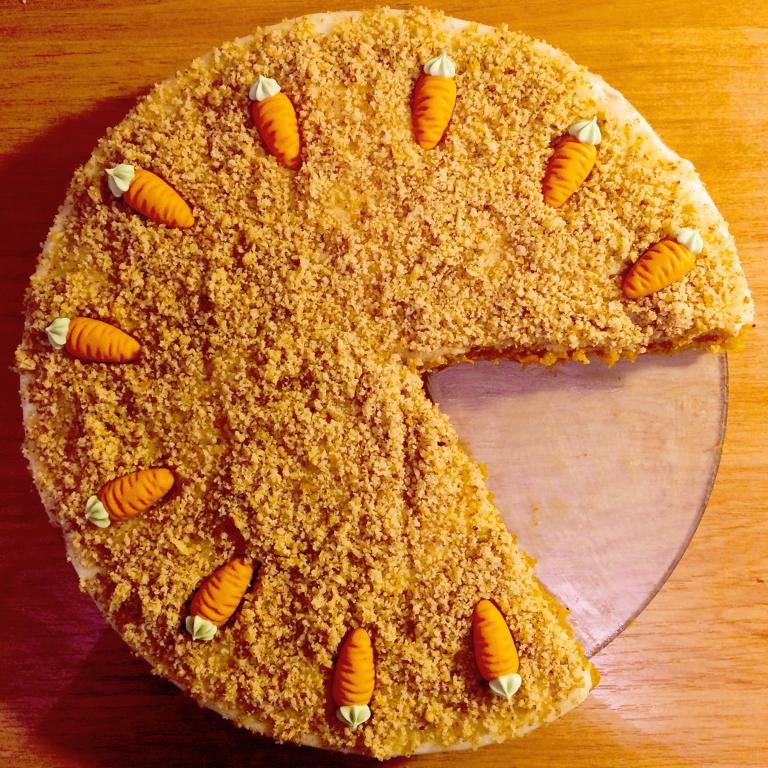 Follow Us On
Did you like this blog entry? I hope you enjoyed this post, check in next week for more tips or have a look at my other posts. Please feel free to share them and to leave a comment. You can subscribe to my website or follow me on Instagram or Facebook. On Instagram you also will find simple snapshots of my daily life taken with my cellphone besides professional photography and fashion themes.
See you soon, XOXO