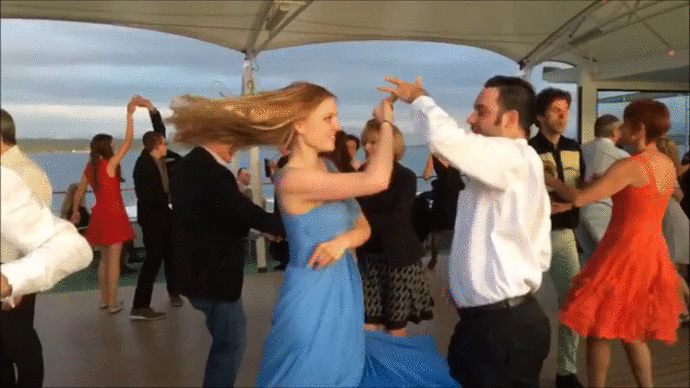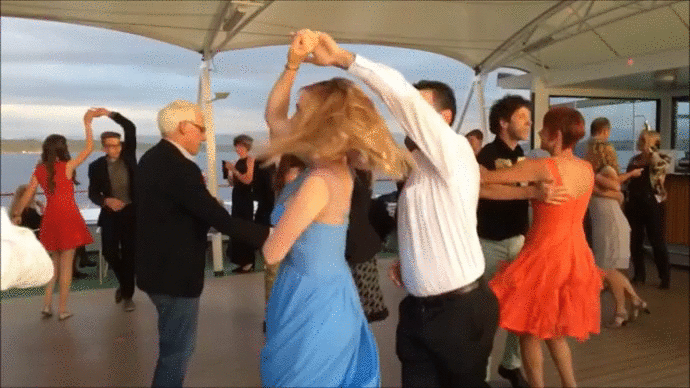 It was the perfect weather for a trip with this dancing ship "MS Starnberg" on the "Starnberger lake". Wonderful sunset and very warm! There we danced ballroom into the night. Many different types of dance songs were played such as the Cha Cha Cha, Rumba, the Vienna and slow waltz, Samba, Jive, a few times Salsa, passionate Tango, Fox Trott, etc… The ship had two decks, one open-air one outside at the top and one inside. Also amazing dance shows were presented. For the whole route it took the ship about three hours. We started in Starnberg, passed the castle of Possenhoffen, the rose island, Tutzing, Bernried, Seeshaupt, Ambach, Ammenland, Leoni, the Votiv chapel, Berg and finally arrived again in Starnberg.
The wonderful Chiffon gown is from the brand JS Collection and I got from BestSecret. It is an exclusive online shopping community with limited access for members only. If offers products from over 3.000 designer with sensational discounts up to -80%! Simply amazing! Don't believe it? If you want to receive a desirable membership there please don't hesitate to contact me or use this LINK. I have some invitations left just for you. Check it out!
If you can't wait to experience this wonderful dancing ship event by your own, buy your tickets here now for the next time: hierwirdgetanzt.de
Follow Us On
Did you like this blog entry? I hope you enjoyed this post, check in next week for more tips or have a look at my other posts. Please feel free to share them and to leave a comment. You can subscribe to my website or follow me on Instagram or Facebook. On Instagram you also will find simple snapshots of my daily life taken with my cellphone besides professional photography and fashion themes.
See you soon, XOXO