How to dress Bavarian accurately:
Tradtitional clothing which is cold "Tracht" plays a huge role in the Bavarian life, much more than in any other states of Germany. In Bavaria wearing a dirndl or lederhosen you will always be dressed to perfection. Folklore customes are not only a fashionable way to dress, they will always be! They represent an essential aspect of the Bavarian culture and will by worn by locals AND tourists from around the world on traditional Bavarian festivities, such as the Oktoberfest, to church, to hoisting a maypole on May the 1st or on other holidays! The folklore dress is also very popular at birthdays, anniversaries and weddings. I am always proud to wear it and almost never can wait until Oktoberfest where I get the chance to present my dirndl each day in a new way. Attending Oktoberfest almost everyone – I'd say 90% – is wearing the traditional customes. Actually by now, it is a must! The folklore outfit will help you to blend in better, and you won't look like a tourist anymore and of course it is a lot more fun this way! So consider yourself and pleeeeeease follow my advices below because there ARE some styling rules you definetely have to consider to avoid looking cheap or too touristic…
For women:
The most common garment for women is the traditional feminine, tight fitting dress which is gathered at the waist, boosts the cleavage and of which the skirt has a light circular cut. It is named "Dirndl" and is worn in Bavaria, Austria, and South Tyrol. It is based on the traditional clothing of Alps peasants. A full dirndl consists of a bodice, a full skirt, an apron and a puff sleeved blouse. Mostly the Dirndl blouses are white, but black is becoming more popular as well and soft pastel colored tones that go with the dirndl. There are different cuts depending on how much cleavage you want to show. Some women show quite a bit of cleavage and even some leave their blouse at home! Please never do this! It looks super cheap! I reccommend you always to wear a blouse and not to decide for shoulder-free cuts! The boosted cleavage is already enough. Also when you decide to buy a dirndl please make sure the skirt falls below the knee. Above the knee length is always seen as "cheap" as well and in my opinion actually no woman except young or teen girls can wear this. The most traditional form of the dirndl length is a long dress skirt which goes to the ankle. My personally favourite and the most modern skirt length is about 70cm and just below the knee.

Other dresses that are loosely based on the dirndl are known as country-inspired fashion or "Landhausmode". The dirndl for wearing in winter is usually made out of thicker, warmer and heavier materials like cotton, linen, velvet or wool, and with long sleeves and it is kept in rich and dark color shades. Contrary to this, the dirndl for summer is lighter and more revealing and colorful. It has short sleeves, and is often made of lightweight cotton.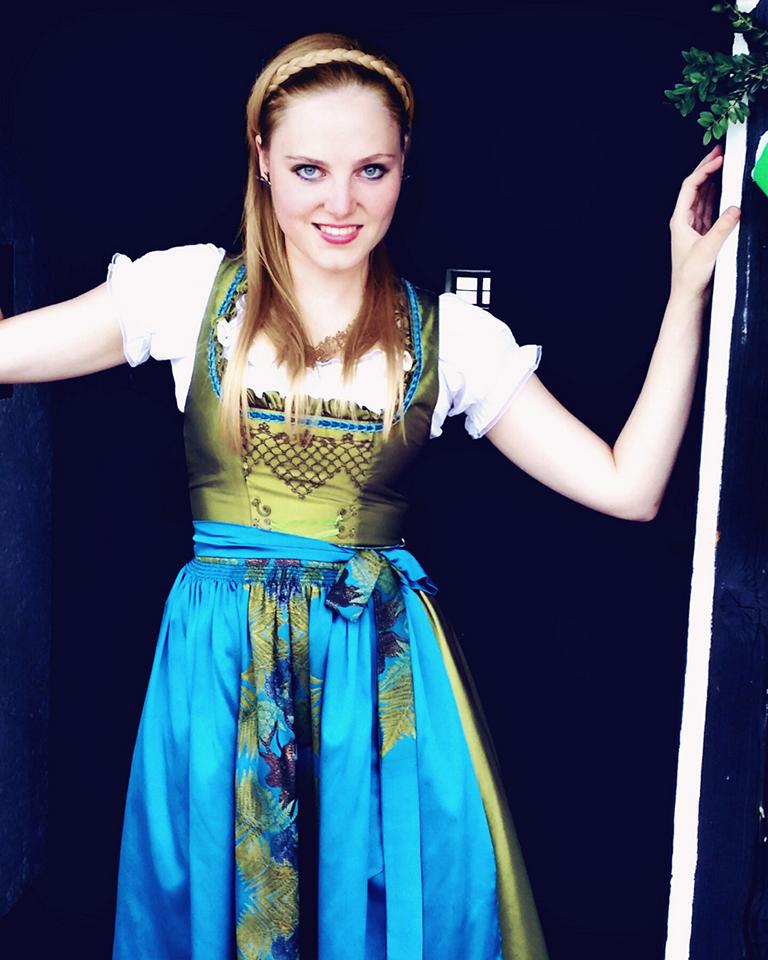 When you tie the ribbon of the apron around your waist it is still strictly adhered to consider the placement of the bow depending on your status. Each side has a different meaning:

On the left: you are single and ready to mingle!
On the right: you have a boyfriend, you are married or promised to someone
In the middle front: you are open to everything or indecisive

In the middle back: you are widowed, or for waitresses.
The price range is huge: It can cost anywhere inbetween 40-10.000 € because a properly made dirndl can be quite expensive as it is unique, tailored by hand and sometimes cut from precious and luxurious hand-printed silk fabrics. I really recommend you to buy a proper one because it will last for many years and people will recognize your sense of style and taste immediately.
Now that women and men are more equal than ever before, there is another, a more masculine form of dressing: Female Lederhosen are becoming more and more common and popular. Especially, I see many international visitors wearing this version of the men's Lederhosen. These high-cut suede shorts have suspenders and can be seen as very sexy if you have the legs to pull it off. But read more about Lederhosen in the men's part below.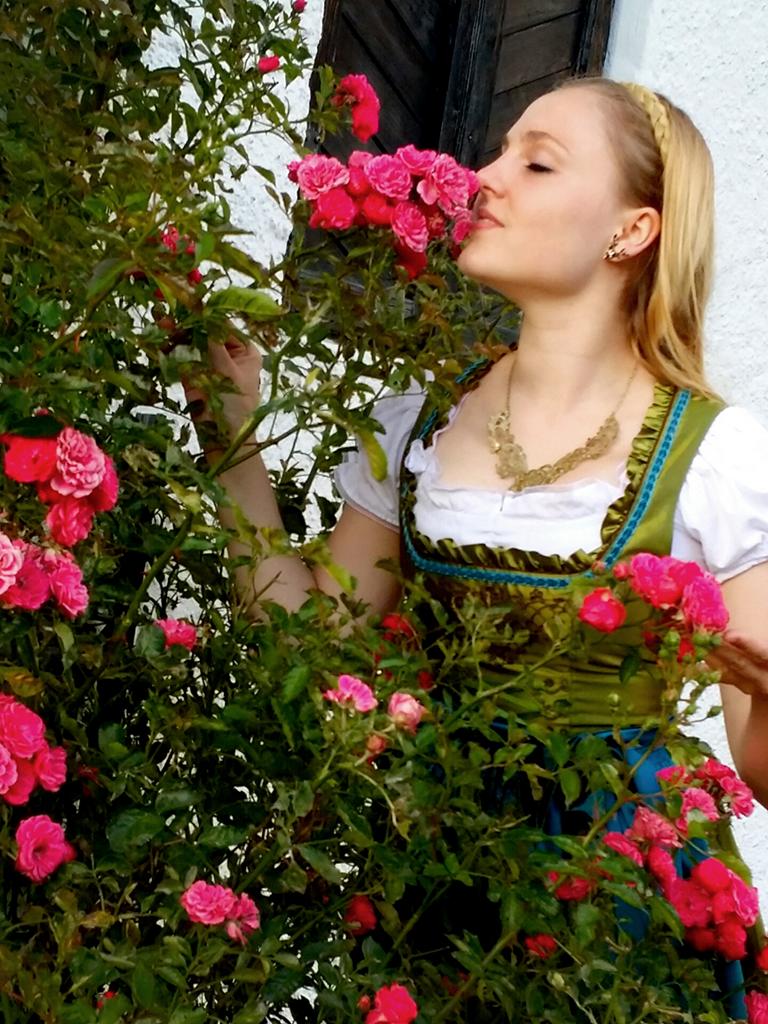 Accessories may include a waistcoat, a wool shawl or jewelry made of silver with Bavarian motifs or antlers of deer or even animals' teeth. For colder weather there are heavy dirndl coats in the same cut as the dresses, with a high neck and front buttons, thick mittens and wool hats. When you look for shoes, better avoid open-toed shoes especially on Oktoberfest. Why? Because there is a huge amount of beer glasses that get broken inside the beer tents. The most common shoes are either flats or the Mary Jane-style footwear that have comfortable rubber soles plus cleated heels and toes to make noise while dancing. Finally don't forget the popular fun accessory – the "Glupperl" – which is a common wooden clothespin on Oktoberfest. It is decorated with a typical Bavarian motif and a fun slogan, nickname or your first name is scorched on with a wood burner. They are a little tacky, but hilarious at the same time and a great ice breaker. Both – women and men – can wear them. The young generation often wears them only to be humorous and use silly false names or dirty words instead of their real names.

For men:
Men wear the typical "Lederhosen" which are shorts or breeches made of leather. Please make sure it is real leather and not authentic or some fake material like felt which Americans love to wear to Oktoberfest. Immediately you will be recognized as a tourist. There are three different length of lederhosen: The two most common ones are the short ones in capri-style which are called "Bundhosen" and the longer ones about knee- or below the knee length which are generally called "Kniebundhosen" or "Plattlerhosen". You can buy them with suspenders or without suspenders depending on how well the shorts fit you and if they stay up on their own. True traditional Lederhosen and suspenders might have certain color embroidery or insignia on the Lederhosen to signify from which region they come from. Embroidered chest straps on suspenders are very common as well. Lederhosen also vary in price depending on the leather, proccessing, age or embroidery that is used. A typical affordable Lederhose costs about 120-290 €.

Traditionally a plain button-up shirt with bed sheet buttons is combined, but for Oktoberfest and especially the young generation it is becoming more popular to wear a white plaid shirt of any bright color like red, green, violet, orange, and blue. Remember that the colors white and blue are the official colors of Bavarian flag. To top off the costume, combine your outfit with common garments as ties, jackets or nice vests which most of the established Bavarian men have to accent their outfit. The vest is called a "Prien", and sometimes can be worn instead of suspenders. Usually, ties are worn with fancy metal tie rings.

Finally, finish your outfit with accessories like sturdy Bavarian shoes, a wool or Alpine hats (Tirolerhüte) or traditional socks. The Bavarian shoes are called "Haferlschuhe". They are a mixture of dress shoes and work boots because they have smooth leather on top and cleated bumps on the bottom. However, there are many extra options for hat accessories: Typically they have a pheasant or ostrich feather on the side. If you like it fancier you can replace these with a brush of either goat or boar. Native Bavarians can often be seen wearing a hat with a "Gamsbart" which is handmade from the hair of a chamois. Because of that it is incredibly expensive and you can spend up to 3.000€ or more for a hat, but it depends on the size. Therefore it is a sign of high standing. Of course the bigger the feather or tuft of hair on your hat, the more expensive it is and the wealthier you are. Additionally pewter pins can be added. They show which cities and seights you have visited and your interests like hiking or hunting. Traditionally, lederhosen are worn with high socks which make it up to the knees or lower socks in combination with small "legwarmers" like bands around the calves of burly men.  The cooler combo is definetely a low cut wool sock with a matching, mid-shin wool leg warmer. The socks are usually made of wool with integrated stripes or dots, but sometimes they can also be made of cotto.

Follow Us On
Did you like this blog entry? I hope you enjoyed this post, check in next week for more tips or have a look at my other posts. Please feel free to share them and to leave a comment. You can subscribe to my website or follow me on Instagram or Facebook. On Instagram you also will find simple snapshots of my daily life taken with my cellphone besides professional photography and fashion themes.
See you soon, XOXO