Be traditional: Tracht!
 > Jedes Stück ein Unikat <
Jedes Dirndl ist weltweit in seiner Gestaltung nur einmal erhältich. Die limitierte Dirndln sind in bester Qualitität aus hochwertigen Stoffen, wie echtem Seiden-Sari, Wildseide, Brokat, Spitze, Samt, mit Perlen und Pailletten besätzten Tüllen etc, gefertigt. Die Designerin wählt jeden Stoff persönlich aus, um ein perfektes Zusammenspiel aus Farben und Stoffen zu kreieren und jede Frau zum Strahlen zu bringen.
Alina Spiegel schneidert jedes Jahr nur wenige handgefertigte, einzigartige Dirndl. Diese kommen aus eigenener Manufaktur direkt in München. Alle Stücke sind individuell entworfen, liebevoll handgearbeitet, verziert und bestickt. Daher sind sie immer rasch ausverkauft. Auf Anfrage fertigt die Münchner Designerin Alina Spiegel Dirndl nach Maß oder ändert diese so ab, dass sie perfekt passen. Daher finden Sie für jeden Anlass das perfekte Designer-Dirndl Unikat: Sie haben die Auswahl zwischen den klassischen Oktoberfest Dirndln im traditionellen Stil oder modernen, modischen Dirndl-Designs in einzigartigen Couture Stil. Auch können Sie sich für ein exklusives Sari-Dirndl oder ein einzigartiges Hochzeitsdirndl entscheiden. Egal ob Sie ein klassisches, weißes Hochzeitsdirndl oder doch lieber ein modernes Brautdirndl in Farbe bevorzugen, bei der Münchner Designerin werden Sie auf jeden Fall fündig. Lassen Sie sich von Alina Spiegel persönlich beraten, um ihren individuellen und perfekten Stil zu finden!

Original Münchner Bierbandl
… und zum Dirndl darf natürlich nicht das passende Accessoire fehlen! Das "Original Münchner Bierbandl" von ALINA SPIEGEL ist das perfekte Accessoire für jedes Volksfest, wie z.B. die Wiesn oder Euren nächsten Biergartenbesuch. Jedes Bierbandl ist ein Unikat und ein fescher Hingucker, mit dem Ihr und Eure Bierkrüge garantiert aus der Masse herausstechen. Außerdem verwechselt Ihr so Eure Bierkrüge nicht mehr untereinander.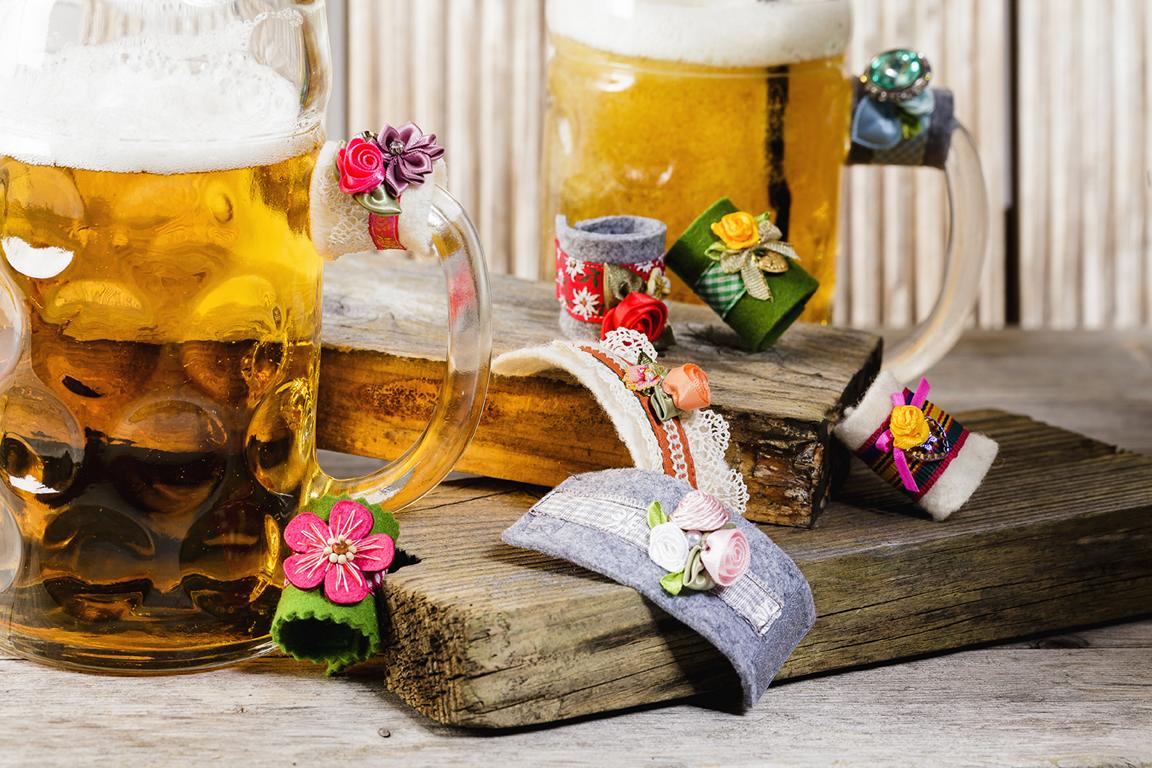 Unternehmensgeschichte
Die Designerin erklärt uns: "Schon immer haben mich die alpenländischen Dirndl begeistert, denn sie stehen ausnahmslos jeder Frau und sind wunderschön, farbenfroh, feminin und elegant zugleich. Dennoch störte es mich, dass mir gelegentlich ein und das selbe fabrikgefertigte Dirndl entgegen kam. Ich sträubte mich weiterhin lieblose und nach Standard gefertigte Massenware zu tragen. Daher begann ich, nachdem ich die internationale Modeschule ESMOD erfolgreich als Designerin absolviert hatte, mich darin versuchen, meine ersten Dirndl-Unikate entwerfen. Nach einigen selbst entworfenen Luxus-Designer-Dirndln, begannen sich bereits Freunde, Familie und Bekannte darum zu reißen. Auch unterwegs wurde ich stets – immer wenn ich ein selbstgeschneidertes Unikat trug – auf meine eigenen Kreationen angesprochen. So dauerte es nicht lang bis meine Luxus-Designer-Dirndl zu einem begehrten Geheimtipp wurden, weshalb ich schließlich das Münchner Label ALINA SPIEGEL gründete."
Bierbandl Couture Dieses Lingerie-Set ist ein Kunstwerk bestehend aus zierlichen, handgemachten Bierbandln von ALINA SPIEGEL, welche mühevoll aneinander befestigt wurden. Jedes davon ein Unikat. Die schmückende Funktion dieser Maßkrug Markierungen, eigentlich als [...]
Timelapse
How to make a Dirndl!
Here you can see the whole creative progress from choosing the fabrics to the final garment. During the time of Oktoberfest in Munich 2015 I created this Dirndl and recorded single steps during the production to show my friends. I love to be creative in my spare time.
Video Recording & Cutting: Alina Spiegel
Music: All Night by Parov Stelar